Charisse Marie Abalos-Vargas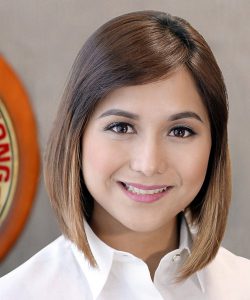 Councilor
Address:
3/F BOC Building
City Government Complex, Maysilo Circle
Barangay Plainview, Mandaluyong City 1550
Direct Line:
8534-8927/8533-4304
Local:
532-5001 to 28 ext 577/578
Email:
councilor.charisse@mandaluyong.gov.ph
Charisse, Mandaluyong District 1's 2-time number 1 Councilor, is the eldest daughter among the 6 children of newly elected City Mayor Carmelita Aguilar Abalos and Mandaluyong's 5-term, award-winning City Mayor, Benjamin "Benhur" De Castro Abalos.
In June 2016, she got married to one of Nueva Ecija's prominent political families and is now the wife of Aliaga, Nueva Ecija's number 1 elected Councilor, David Angelo Vargas.
A product of the private education system, Councilor Vargas completed her primary and secondary education at the Saint Pedro Poveda College in Quezon City.
In 2007, she graduated from the Ateneo de Manila University with a degree on AB Management Economics.
Named as the no. 1 elected Councilor of the City's 1st District for two consecutive terms, Councilor Charisse now holds significant posts in the City Council, including the role of the 10th Council's Majority Floor Leader.
She is also the Chairman of the City Council's Trade, Commerce & Industry Committee, Appropriations Committee, and the Well and Means Committee.
She is also the Co-Chairman of Mandaluyong's Micro Small Medium Enterprise Development Council, the Vice-Chairman of Mandaluyong's Gender and Development Council (GAD) and the President of the Girl Scouts of the Philippines – Mandaluyong Chapter.
Widely known as the author of the well-embraced Ordinance in the country, the Code of Parental Responsibility, which is being replicated in different cities and municipalities in the Country, Councilor Charisse is also the brain behind Mandaluyong's well-celebrated Business Week, which is held annually every 3rd week of June, as well as the Cooperative Month held every October.
She is also the mother of the city's well-embraced project, Student Entrepreneurs' Cup, which encourages, molds and empowers Mandaluyong-based Students in becoming future entrepreneurs.
Councilor Charisse Abalos-Vargas is also the main proponent of the Tiger City Negosyo Center, which serves as a one-stop shop for all the needs and concerns of existing and aspiring entrepreneurs.
With the establishment of the Tiger City Negosyo Center, starting up and growing a business is a lot easier and more efficient for all Mandaleños.
Outside the political arena, Councilor Charisse serves as the President of the Ciara Marie Abalos Foundation and of the socio-civic youth organization, Samahan ng mga Kabataang Nagkakaisa (SAMAKANA).
She is also very active in the Business World and holds note-worthy roles in different enterprise.
A strong-willed and accomplished woman, Councilor Charisse has already achieved numerous citations at her young age including the 25 Pinoy Young Achievers Awards in 2007, Ambassador of Goodwill in 2010; Philippine's Best Dressed Women of 2013 and the latest addition to her roster of awards, Department of Educations' "Valued Partner and Benefactor in Promoting Accessible and Quality Education for All (EFA)" Award, which was given last October 2014.